Promotional videos have become the best way to advertise across all online platforms, but video will only be good for your business if it is done right. If you produce and display videos that are poor quality, badly designed or difficult to watch, you will be putting off potential customers and giving a bad impression of your company.
Sound is a very important consideration in a promotional video, and when a video is accompanied by poor audio, it has a very negative effect on viewers. Whether you are using video to promote products or to grow your brand across social media networks, the quality of your audio will be vital to the success of your campaign.
How To Get Great Audio Quality In Your Video
•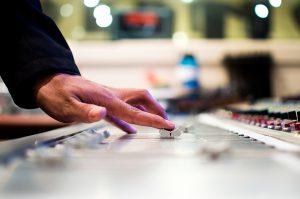 Use a microphone. There's a big difference between sound picked up via a microphone that is built into a camera and sound picked up on a purpose built microphone. There are many different types of microphone, and the quality of these varies enormously, but a professional sound engineer will be able to find the perfect combination for you and your video.
• Think about the environment you film in. If you record your video in an empty space with nothing to absorb the sound, you will find that your audio echoes and is difficult to listen to. Soft furnishings help to deaden the sound, giving a better quality of audio, but you can also use rugs hung on walls to improve sound, or use a professional studio which is designed to create the best depth of sound for your recording.
• Pay attention to post-production. After the filming finishes, there is still a great deal of work to do to ensure a video is ready for use in your marketing strategy. Most people do not realize how much work is done at this stage, but they will certainly be able to tell the difference between a professionally edited video clip and one that has not been worked on to optimize sound and overall appearance!
• Work with the experts. A video production company can give you the edge when you're creating a promotional video for your business. With the expertise to guide you through each step of the process, and the right equipment to give you a professional result, it's well worth investing to get your video right.
Are You Seeking A Video Production Company in Ireland
Here at AV3, we are one of Ireland's leading TV Production companies, and we have worked on many popular TV series and documentaries. We use the best equipment to create unique promotional films, and we are passionate about working alongside our clients to achieve the best results.
If you're looking for a professional video production company to take care of your advertising, staff training packages or other website content, call us on 021-7332222 (Cork) or 01-6363190 (Dublin), or visit us online today